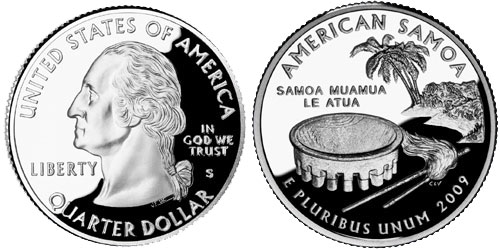 The American Samoa Quarter (Buy on eBay) was released on July 27, 2009. This represented the fourth release of the 2009 DC & US Territories Quarter Program. This program followed the popular 50 State Quarters Program with six additional quarters for U.S. jurisdictions not classified as states.
The reverse design of the American Samoa Quarter features items used in special Samoan ceremonies against a background image of the coastline. The items include the ava bowl and the whisk and staff. The ava bowl is used to make a ceremonial drink during important events. The whisk and staff represent the rank of Samoan orator. The inscriptions read "American Samoa," "Samoa Muamua Le Atua" (translated: "Samoa, God is First"), "E Pluribus Unum," and the date. The reverse was designed by Stephen Clark and sculpted by Charles Vickers.
Two other finalist designs for the quarter were created but not selected. The first features a man holding a dried coconut cup used during the ava ceremony. His image is surrounded by coconut leaves, breadfruit tree leaves, and taro leaves. The second proposed design portrays a collection of symbols representative of American Samoa, including a guesthouse, headdress and bowl.
An official launch ceremony for the American Samoa Quarter was held in Pago Pago on September 4, 2009, more than a month after the official release date of the coin. The ceremony was attended by US Mint Deputy Director Andrew Brunhart and American Samoa Governor Togiola T.A. Tulafono. Following the ceremony children aged 18 and younger were given a free American Samoa Quarter. Adults were allowed to exchange currency for rolls of quarters.
The overall mintage for the American Samoa Quarter marked a temporary low for quarter production. Just over 82 million quarters were produced for circulation across both the Philadelphia and Denver Mints. The San Francisco Mint struck proof versions of the coin in standard and 90% silver composition for inclusion within annual collector sets.
American Samoa Quarter Mintages
2009-P American Samoa Quarter: 42,600,000
2009-D American Samoa Quarter: 39,600,000
2009-S Proof American Samoa Quarter: 2,113,390
2009-S Silver Proof American Samoa Quarter: 993,589
American Samoa Quarter Specifications
Designers: William Cousins after John Flanagan (obverse), Stephen Clark (reverse)
Composition: 91.67% copper, 8.33% nickel (clad), 90% silver, 10% copper (silver proof)
Diameter: 24.26 mm
Weight: 5.67 grams
Thickness: 1.75 mm
Edge: Reeded