The Guam Quarter (Buy on eBay) was released into circulation on May 26, 2009. This was the third release of the 2009 DC & US Territories Quarter Program.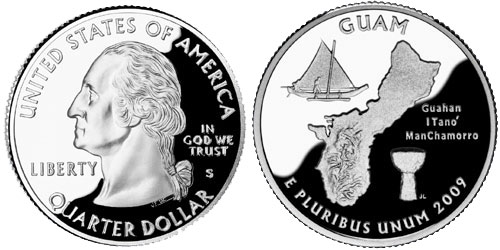 The design features an outline of the island of Guam along with two symbols associated with the island. At left is a sailing vessel known as the "Flying Proa" for its great speed. At right is a Latte, a stone pillar used in ancient houses. The reverse was designed by David Westwood and sculpted by Jim Licaretz.
The inscriptions read "Guam," "Guahan I Tanó ManChamorro," (translated: Guam- Land of the Chamorro), "E Pluribus Unum," and the date. The second inscription refers to Chamorro, one of the official languages of Guam which holds an important place in Guam's identity as a link to their ancestors. Use of the language has experienced a renaissance in Guam and the Mariana Islands.
Another design proposed but not selected featured the Flying Proa sailing within the East Hagatna Bay with a coconut tree to the right and Two Lovers Point in the background. The selected design was chosen by the residents of Guam based on popular vote.
An official launch ceremony for the Guam Quarter was held on June 4, 2009 at Skinner Plaza in Hagatna, Guam. The ceremony was hosted by US Mint Director Edmund Moy and Guam Governor Felix P Camacho. After the ceremony children were given a free Guam Quarter and adults were allowed to exchange bills for new rolls of coins. Prior to the ceremony, a collectors coin forum was held.
The Guam Quarter Mint experienced another mintage decline from the level of the previous quarter release. The impact of a slowing economy and an influx of old coinage reentering circulation which reduced the need for newly minted coins. There were only 42,600,000 Guam Quarters produced at the Denver Mint and 45,000,000 produced at the Philadelphia Mint. The San Francisco Mint struck proof and silver proof versions of the coin for collectors.
Guam Quarter Mintages
2009-P Guam Quarter: 45,000,000
2009-D Guam Quarter: 42,600,000
2009-S Proof Guam Quarter: 2,113,390
2009-S Silver Proof Guam Quarter: 993,589
Guam Quarter Specifications
Designers: William Cousins after John Flanagan (obverse), David Westwood (reverse)
Composition: 91.67% copper, 8.33% nickel (clad), 90% silver, 10% copper (silver proof)
Diameter: 24.26 mm
Weight: 5.67 grams
Thickness: 1.75 mm
Edge: Reeded