The State Quarter series proved to be instantly popular with new and existing coin collectors. Each issue featured a different coin design, released at approximately ten week intervals. This made it relatively easy to build an impressive collection over time by finding the new coins in pocket change or buying pristine uncirculated examples as the coins were released.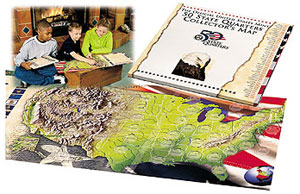 One of the popular options for collecting the series is by filling in a State Quarters Map. Generally, a color coded or topographical map of the United States is imprinted on a cardboard holder. There are slots within or next to each of the 50 states, which can be fitted with the corresponding quarter. Most maps feature additional educational information about the states, often including the state capital, state flag, state flower, or the quarter release information. The maps serve as a wonderful way to collect and display the coins, as well as a tool for learning about the geography of the United States and some of the uinque aspects of each state.
Pictured at right is the Official United States Mint 50 State Quarters Collectors Map. This was offered for sale by the US Mint when the series was first launched. Although it is no longer for sale, many other private companies have produced similar maps. Some coin dealers may also have some of the US Mint's maps available for sale.
A more traditional way to assemble a collection is with a State Quarters Folder or Album. The folder or album contains a slot for each release of the series. Some folders will include slots for the State Quarters from each Mint. For the entire series, coins were produced for circulation at the Philadelphia Mint and the Denver Mint. The mint marks, either "P" or "D", can be found on the front of the coin, to the left of Washington's portrait, beneath "In God We Trust." Some albums will include slots for the proof only issues that were only released within US Mint issued Proof Sets. These proof coins were minted at the San Francisco Mint and bear the "S" mint mark. Proof coins were minted each year in the standard clad composition and a special 90% silver composition.
A variety of State Quarter Folders and Albums have been issued by private companies. Some provide additional information about the coins such as the mintage or release dates.