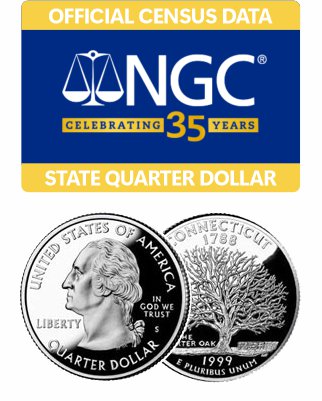 Explore the wealth of population data from Numismatic Guaranty Company (NGC®), the industry leader in certification of collectible coins. NGC census data is the source that collectors and dealers use to track US Mint State Quarter series populations by year and type by each grade of the Sheldon grading scale. This website is free for all to use. Please bookmark this page for future reference. The census data is updated weekly to ensure you see the most up-to-date information on your favorite coins.
Click the issue year below to view complete data. Click and drag on the table to scroll horizontally and view the full set of grades.
The World's Largest, Most Trusted Grading Service
The NGC Census is an up-to-date population report showing the latest number of coins, tokens and medals graded by NGC for every type and grade.
With an unparalleled commitment to accuracy, consistency and integrity, NGC is the world's largest and most trusted third-party grading service for coins, tokens and medals. Since 1987, NGC has graded more than 52 million coins, each one backed by the industry-leading NGC Guarantee.
NGC employs more than 30 full-time coin graders as well as outside consultants. To ensure impartiality, NGC and its full-time graders do not buy and sell coins commercially, and strict procedures are in place to prevent consultants from influencing the grades assigned to their own submissions. The combined expertise of the NGC grading team results in unparalleled accuracy and consistency. Data is updated weekly and includes all specimens graded by NGC.