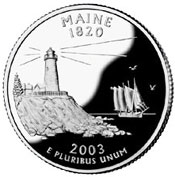 State Quarters were released at a rate of five different designs per year for the entire ten year program. The steady stream of new designs released into circulation kept the interest level high for collectors of the series. Each coin release was often coordinated with an official launch ceremony in the state featured, which became a point of pride for citizens.
The first State Quarter featuring Delaware was released on January4, 1999. This was followed by the Pennsylvania, New Jersey, Georgia, and Connecticut Quarters released in approximately ten week intervals. A similar schedule was followed for the subsequent years of the series, with the final State Quarter featuring Hawaii released on November 3, 2008.
Immediately following the conclusion of the program, six additional coins were released during a single year. The District of Columbia and US Territories Quarters Program would honor the non-state jurisdictions of the United States.
The release dates for the entire State Quarters series are listed below, followed by the dates for the DC & US Territories Quarters series.
State Quarter Release Schedule
| | |
| --- | --- |
| 1999 State Quarters | |
| Delaware | January 4, 1999 |
| Pennsylvania | March 8, 1999 |
| New Jersey | May 17, 1999 |
| Georgia | July 19, 1999 |
| Connecticut | October 12, 1999 |
| | |
| 2000 State Quarters | |
| Massachusetts | January 3, 2000 |
| Maryland | March 13, 2000 |
| South Carolina | May 22, 2000 |
| New Hampshire | August 7, 2000 |
| Virginia | October 16, 2000 |
| | |
| 2001 State Quarters | |
| New York | January 2, 2001 |
| North Carolina | March 12, 2001 |
| Rhode Island | May 21, 2001 |
| Vermont | August 6, 2001 |
| Kentucky | October 15, 2001 |
| | |
| 2002 State Quarters | |
| Tennessee | January 2, 2002 |
| Ohio | March 11, 2002 |
| Louisiana | May 20, 2002 |
| Indiana | August 2, 2002 |
| Mississippi | October 15, 2002 |
| | |
| 2003 State Quarters | |
| Illinois | January 2, 2003 |
| Alabama | March 17, 2003 |
| Maine | June 2, 2003 |
| Missouri | August 4, 2003 |
| Arkansas | October 20, 2003 |
| | |
| 2004 State Quarters | |
| Michigan | January 26, 2004 |
| Florida | March 29, 2004 |
| Texas | June 1, 2004 |
| Iowa | August 30, 2004 |
| Wisconsin | October 25, 2004 |
| | |
| 2005 State Quarters | |
| California | January 31, 2005 |
| Minnesota | April 4, 2005 |
| Oregon | June 6, 2005 |
| Kansas | August 29, 2005 |
| West Virginia | October 14, 2005 |
| | |
| 2006 State Quarters | |
| Nevada | January 31, 2006 |
| Nebraska | April 3, 2006 |
| Colorado | June 14, 2006 |
| North Dakota | August 28, 2006 |
| South Dakota | November 6, 2006 |
| | |
| 2007 State Quarters | |
| Montana | January 29, 2007 |
| Washington | April 2, 2007 |
| Idaho | June 4, 2007 |
| Wyoming | September 3, 2007 |
| Utah | November 5, 2007 |
| | |
| 2008 State Quarters | |
| Oklahoma | January 28, 2008 |
| New Mexico | April 7, 2008 |
| Arizona | June 2, 2008 |
| Alaska | August 25, 2008 |
| Hawaii | November 3, 2008 |
| | |
| 2009 DC & US Territories Quarters | |
| Washington DC | January 26, 2009 |
| Puerto Rico | March 30, 2009 |
| Guam | May 26, 2009 |
| American Samoa | July 27, 2009 |
| Virgin Islands | September 28, 2009 |
| Northern Marianas Islands | November 30, 2009 |