The Puerto Rico Quarter (Buy on eBay) was released on March 30, 2009. This marked the second release of the 2009 DC & US Territories Quarter Program.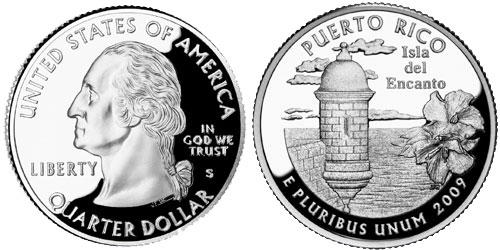 The reverse design features a view of the sea from a sentry box in Old San Juan. Pictured at right is the hibiscus. The inscriptions read "Puerto Rico," "Isla del Encanto" (translated: Isle of Enchantment), "E Pluribus Unum," and the date. The reverse was designed and sculpted by Joseph Menna.
Another proposed design included a depiction of the Governor's residence, the Palacio de Santa Catalina. This is the oldest government building in the Americas which has remained in continuous use. A second proposed design depicted the Arecibo Observatory. This enormous telescope is the largest single aperture telescope ever constructed. The selection of the Old San Juan design was announced by the US Mint on December 15, 2008.
An official launch ceremony for the Puerto Rico Quarter was held on April 2, 2009 at San Juan's La Arcada in Paseo La Princesa. The ceremony presented by United States Mint Director Edmund Moy and Puerto Rico Governor Luis Fortuno. Also in attendance were Puerto Rico's First Lady Luce Vela and Secretary of State Kenneth McClintock. The festivities will include local entertainment and a coin exchange. Free coins were given to children 18 years and younger.
The mintages for the Puerto Rico Quarter declined from the levels of the previous quarter release. The reduced production came amidst a slow down in the economy and a backwash of old coinage reentering the system. The Philadelphia Mint produced 53,000,000 coins and the Denver Mint produced 86,000,000 coins.
Puerto Rico Quarter Mintages
2009-P Puerto Rico Quarter: 53,000,000
2009-D Puerto Rico Quarter: 86,000,000
2009-S Proof Puerto Rico Quarter: 2,113,390
2009-S Silver Proof Puerto Rico Quarter: 993,589
Puerto Rico Quarter Specifications
Designers: William Cousins after John Flanagan (obverse), Joseph Menna (reverse)
Composition: 91.67% copper, 8.33% nickel (clad), 90% silver, 10% copper (silver proof)
Diameter: 24.26 mm
Weight: 5.67 grams
Thickness: 1.75 mm
Edge: Reeded