Hawaii State Quarters (Buy on eBay) were released on November 3, 2008 as the fiftieth and final coin in the State Quarter series. Hawaii's original Statehood date was August 21, 1959.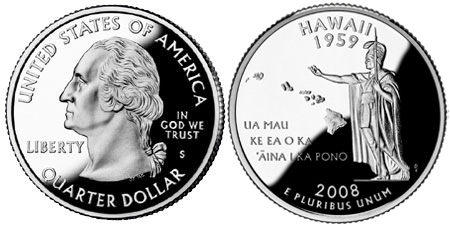 The reverse design features a statue of Kamehameha I. The inscriptions include the State name, Statehood date, mintage date, "E Pluribus Unum," and "UA MAU KE EA O KA 'AINA I KA PONO." (Translated: The life of the land is perpetuated in righteousness.) The coin's reverse was designed and engraved by Don Everhart.
King Kamehameha I unified the governance of the Hawaiian Islands in the early 1800's. He navigated through modern changes while maintaining the native practices and traditional ways of island life. The reverse design depicts the ruler with an outstretched hand towards the eight main Hawaiian Islands.
The Hawaii Commemorative Quarter Advisory Commission was composed of 36 leaders and students from around the state. They solicited design themes from the state's citizens and forwarded five to the United States Mint for artistic renderings. An online poll was used to determine the state's favorite design. The US Treasury Department provided final approval.
A special release ceremony took place on November 10, 2008 at Bishop Square in downtown Honolulu, Hawaii. The ceremony featured a children's hula performance and Hawaiian music. Attendees were allowed to exchange bills for $10 rolls of Hawaii Quarters.
The Philadelphia mint produced 254,000,000 coins. The Denver mint produced 263,600,000 coins. Proof and 90% silver proof version of the coins were issued by the United States Mint in collector sets.
Hawaii Quarter Mintages:
2008-P Hawaii Quarter: 254,000,000
2008-D Hawaii Quarter: 263,600,000
2008-S Proof Hawaii Quarter: 2,078,112
2008-S Silver Proof Hawaii Quarter: 1,192,908
Hawaii Quarter Specifications:
Designers: William Cousins after John Flanagan (obverse), Don Everhart (reverse)
Composition: 91.67% copper, 8.33% nickel (clad), 90% silver, 10% copper (silver proof)
Diameter: 24.26 mm
Weight: 5.67 grams
Thickness: 1.75 mm
Edge: Reeded