The District of Columbia Quarter (Buy on eBay) was released on January 26, 2009. This was the first release of the 2009 DC & US Territories Quarter Program, which followed the popular 50 State Quarters Program with six additional designs.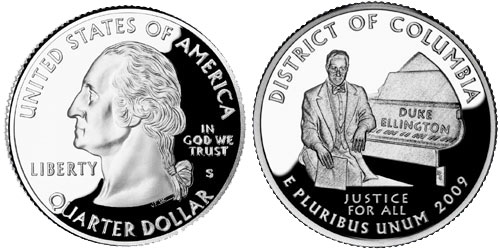 The reverse design features a depiction of famous jazz musician Duke Ellington, who was born and raised in Washington DC. The inscriptions include "District of Columbia", "E Pluribus Unum", "2009", "Justice For All" and "Duke Ellington" on the piano. The reverse was designed by Joel Iskowitz and sculpted by Don Everhart.
The design selection process caused some controversy since all of the preliminary designs submitted contained the inscription, "Taxation Without Representation." This motto refers to the fact that residents of the District of Columbia pay federal taxes but do not have full representation in Congress. The US Mint rejected the inscription on the basis that controversial inscriptions may not be included on coins. The inscription "Justice For All" is used in place of the controversial statement.
Besides Duke Ellington, other proposed designs for the Washington DC Quarter included depictions of Frederick Douglas and Benjamin Banneker.
An official launch ceremony for the 2009 District of Columbia Quarter was held on February 24, 2009 at the Smithsonian Institution's National Museum of American History. The ceremony was attended by US Mint Director Edmund Moy, Congresswoman Eleanor Holmes Norton, and members of the Ellington family. One of the highlights was a performance by the Duke Ellington High School Jazz Band.
The mintages for the District of Columbia Quarter showed a sharp decline from the levels seen during the State Quarters Program. The Philadelphia Mint produced 83,600,000 coins and the Denver Mint produced 88,800,000 coins. Proof and silver proof coin were produced at the San Francisco Mint for inclusion in collector proof sets.
District of Columbia Quarter Mintages
2009-P District of Columbia Quarter: 83,600,000
2009-D District of Columbia Quarter: 88,800,000
2009-S Proof District of Columbia Quarter: 2,113,390
2009-S Silver Proof District of Columbia Quarter: 993,589
District of Columbia Quarter Specifications
Designers: William Cousins after John Flanagan (obverse), Joel Iskowitz (reverse)
Composition: 91.67% copper, 8.33% nickel (clad), 90% silver, 10% copper (silver proof)
Diameter: 24.26 mm
Weight: 5.67 grams
Thickness: 1.75 mm
Edge: Reeded